Search Skin Biology
Benefits of Jasmine Oil: Heighten Mental and Spiritual Awareness with Jasmine Oil
The delicate Jasmine flower acts on mental and emotional levels to heighten spiritual awareness and calm down anxiety. Jasmine oil and candles are used in magical aromatherapy to relax your senses and strengthen consciousness.
How Does Pure Essential Jasmine Oil Benefit Your Skin?
Jasmine softens skin and aids dry, sensitive or inflamed skin, especially when the condition is related to emotional stress. This essential oil rejuvenates your senses with its exotic seductive scent.
Jasmine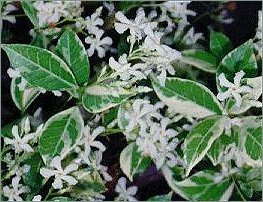 (Jasminum Officinale and J. Grandiflorum)
Jasmine is a member of about 200 species of shrubs and climbing vines native to tropical areas of Southeast Asia, Africa and Australia. Mature plants are usually up to three meters high and two meters wide.
Jasmine is grown extensively in Cannes and Grasse in France, and is also produced in Morocco, Italy, India, China, Japan and Egypt.
The popularity of jasmine has resulted in many species of jasmine now grown worldwide. True jasmine is a climbing vine with oval, shiny leaves and tubular, waxy-white flowers.
Two types of jasmine are used for oil production - J. grandiflorum and J. officinale. The oil of the two flowers types is virtually identical.
Jasmine has a heavy, rich, animal-like quality akin to musk oil in its sensuous effects but is also calming and relaxing. It contains over 100 ingredients including jasmolactone, jasmone, methyl jasmonate.
Jasmine has been considered an exotic and powerful aphrodisiac since antiquity. In India, jasmine is called "moonshine in the garden" and ancient Indian paintings depicted lovers bathing in moonlight near jasmine plants.
Ancient Asians wrote that jasmine penetrated the deepest layers of the soul and opened emotions. In China, the relaxing jasmine tea has been a popular beverage for thousands of years. In the Sung Dynasty (960) the Emperor had several hundred pots of Arabian Jasmine moved into his courtyards, filling the palace with fragrance.
Cleopatra is said to have wooed Anthony with jasmine oil and Louis XVI had a passion for jasmine scented sheets. It is still the favorite fragrance of French women.
Jasmine resin is extracted from flowers by an extraction process known as enfleurage, or fat maceration, a process which used fat to absorb the volatile aromatic compounds from the living flower.
The enfleurage extraction process begins with the handpicking of the jasmine flowers after they open at night. The freshly picked blooms are laid out on panes of fat covered glass and stacked so the aromatic volatiles don't escape into the air.
This process is repeated for several days with new layers of fresh flowers until the fat is saturated with aroma.
The saturated fat is next melted under very low heat and filtered. The aromatic compounds are extracted from the fat with alcohol. Finally, the alcohol is gently distilled away to leave behind the pure essence.
Jasmine absolute oil is used in perfumes and body lotions and produced by using a gentle solvent on delicate jasmine flowers - 2000 pounds of the handpicked blossoms to yield one pound of jasmine oil.
Jasmine absolute is a dark orange or brown to reddish liquid that becomes darker and more fragrant with age.
---
Questions or Advice?
Ask Dr. Loren Pickart: drlorenpickart@gmail.com
Call us at 1-800-405-1912 Monday through Friday (8 am to 6 pm) PST
---
Pure Essential Oils
The term oil in "essential oils" is not truly accurate but a traditional term.
Essential oils are very volatile fragrances that easily evaporate and greatly differ in character from oils such as olive or safflower oil. Essential oils, derived from plant extracts, are complex mixtures of plant-produced chemicals. Essential lavender oil contains more than fifty plant-produced chemicals.
Pure essential oils are expensive and must be obtained from reputable sources. Adulteration of essential oils is very common since a product like rose oil yields just 0.2% essential oil.
While the finest natural French lavender oils harvested in the Haute Provence are up to 70% linalyl acetate, many lavender oils from France have higher levels of linalyl acetate. However, such oil is fortified with synthetic products and may have no traces of natural lavender. Sandalwood oil can be adulterated with diverse oils such as caster, palm and linseed.
Essential oils are remarkably free of side effects - which is reflected by their long use by humans. Some people may have allergies to oils such as cinnamon oil and juniper berry oil but we do not use these oils.
The best pheromone products consist of essential oils.
Skin Health and Essential Oils
Surprisingly, many of the traditional mood altering essential oils also have been historically used for skin care.
Patchouli has also been used as an anti-inflammatory and an aid for dry, cracked skin.
Oil of lavender has soothing effects on the skin and was used on wounds in ancient Greece and Rome and still is today.
Sandalwood has been used for skin regeneration and to treat acne, dry skin, rashes, chapped skin, eczema, itching and sensitive skin.
Ylang Ylang has been used to treat eczema, acne, oily skin, and irritation associated with insect stings or bites.
REFERENCES
Auguste Galopin in "The Perfume of Women and the Sense of Smell in Love"
Culter WB, Friedmann E, & McCoy NL, Pheromonal influences on sociosexual behavior in men, Archives of Sexual Behavior. 1997;27(1):1-13.
Cohn BA, In search of human skin pheromones, Arch Dermatol. 1994;130(8):1048-51.
Singer AG, A chemistry of mammalian pheromones, J Steroid Biochem Mol Biol. 1991; 39(4B):627-32.
Nicoli RM & Nicoli JM, Biochimie de l'Eros, Contracept Fertil Sex. 1995;23(2):137-44.
Sobel N, Prabhakaran V, Hartley CA, Desmond JE, Glover GH, Sullivan EV, & Gabrieli JD, Blind smell: brain activation induced by an undetected air-borne chemical, Brain. 1999;122( Pt 2):209-17.
Porter RH & Winberg J, Unique salience of maternal breast odors for newborn infants, Neurosci Biobehav Rev. 1999;23(3):439-49.
Winberg J & Porter RH, Olfaction and human neonatal behavior: clinical implications, Acta Paediatr 1998;87(1):6-10.
Kohl JV & Franceour RT, The Scent of Eros (Continuum Publishing) 1995. This is a very excellent book for the general public on pheromones and behavior.