Search Skin Biology
Benefits of Ylang-Ylang Essential Oil
Discover how ylang-ylang essential oil is used to reduce tension and anxiety. Smell the sweet floral fragrance as it soothes your senses. This sensual oil has aphrodisiac qualities useful for impotence and frigidity.
How Do You Use Ylang-Ylang?
On the skin, ylang-ylang oil has a soothing effect that balances overly dry and oily skin by evening out the secretion of sebum. Ylang-ylang also stimulates the scalp to promote luxurious hair growth.
Ylang-Ylang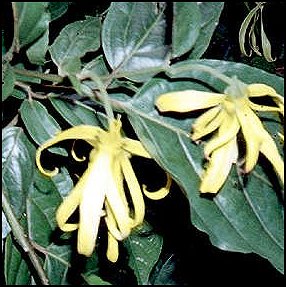 (Cananga Odorata)
The sensuous fame of Ylang Ylang, celebrated around the world, originated in the exotic land of Bali. The plant's fragrant yellow petals traditionally decorated and perfumed the nuptial bed.
The flowers and their oil were used as an antidepressant, aphrodisiac, treatment for impotence, to reduce sexual anxieties, and for calming. Ylang ylang evokes feelings of deep, languid calm that melt away anxiety, tension and stress.
The ylang-ylang (pronounced lang-lang and e-lang-e-lang) tree grows in low-lying tropical areas of several countries stretching from India southwards and eastwards to the northern parts of Australia.
Ylang ylang is known by different names in different countries, however it is from the Tagalog language of the Philippines that the tree came to be known as ylang-ylang, or more correctly álang-álang, a Tagalog term meaning "flower of flowers." The flowers give off a pleasant, sweet and relaxing smell.
Cananga odorata is just one of about 130 genera contained within the large botanical family of tropical plants, shrubs and the Annonaceae, consisting of trees. This large tropical evergreen tree, growing to 20 meters high, is often planted as an ornamental tree because of the shade it gives and the attractive aroma of its flowers. Annonaceae, also called the custard apple family is a family of flowering plants consisting of trees.
The dark green leaves are arranged alternately on the twigs and are about 10cm long, 4cm wide with wavy margins. The flowers have six narrow petals and may be yellow, white or mauve, in color. The yellow, starfish-shaped flowers are produced year-round. Following the flowers, small green fruits are formed.
The flowers possess oil and because they attract night-flying moths, they usually emit pheromones after dusk or in the early morning when their oil is highest. The flowers are distilled in steam. The first fraction of oil that they produce (about 35 - 40% of the total) is considered to be the best quality. This first fraction is called ylang-ylang extra. As distillation continues a second fraction called "ylang-ylang" is taken. Finally a lower grade third fraction is collected; this third fraction, often sold as "cananga oil," is used commercially to perfume many household products. Some distillers do not fractionate the oil; in this case, it is known as a complete oil.
For skin care, ylang-ylang has been used to treat eczema, acne, oily skin and irritation associated with insect stings or bites. Ylang-ylang oil is thought to promote hair growth and was a constituent of macassar, a popular hair oil extensively used in Victorian England.
Ylang ylang has also been used to calm and reduce stress-related conditions such as anxiety, rapid breathing, rapid heart beat (tachycardia) and high blood pressure. It has been used to calm aggressive dogs.
---
Questions or Advice?
Ask Dr. Loren Pickart: drlorenpickart@gmail.com
Call us at 1-800-405-1912 Monday through Friday (8 am to 6 pm) PST
---
Pure Essential Oils
The term oil in "essential oils" is not truly accurate but a traditional term.
Essential oils are very volatile fragrances that easily evaporate and greatly differ in character from oils such as olive or safflower oil. Essential oils, derived from plant extracts, are complex mixtures of plant-produced chemicals. Essential lavender oil contains more than fifty plant-produced chemicals.
Pure essential oils are expensive and must be obtained from reputable sources. Adulteration of essential oils is very common since a product like rose oil yields just 0.2% essential oil.
While the finest natural French lavender oils harvested in the Haute Provence are up to 70% linalyl acetate, many lavender oils from France have higher levels of linalyl acetate. However, such oil is fortified with synthetic products and may have no traces of natural lavender. Sandalwood oil can be adulterated with diverse oils such as caster, palm and linseed.
Essential oils are remarkably free of side effects - which is reflected by their long use by humans. Some people may have allergies to oils such as cinnamon oil and juniper berry oil but we do not use these oils.
The best pheromone products consist of essential oils.
Skin Health and Essential Oils
Surprisingly, many of the traditional mood altering essential oils also have been historically used for skin care. Patchouli has also been used as an anti-inflammatory and an aid for dry, cracked skin.
Oil of lavender has soothing effects on the skin and was used on wounds in ancient Greece and Rome and still is today.
Sandalwood has been used for skin regeneration and to treat acne, dry skin, rashes, chapped skin, eczema, itching and sensitive skin.
Ylang Ylang has been used to treat eczema, acne, oily skin, and irritation associated with insect stings or bites.
REFERENCES
Auguste Galopin in "The Perfume of Women and the Sense of Smell in Love"
Culter WB, Friedmann E, & McCoy NL, Pheromonal influences on sociosexual behavior in men, Archives of Sexual Behavior. 1997;27(1):1-13.
Cohn BA, In search of human skin pheromones, Arch Dermatol. 1994;130(8):1048-51.
Singer AG, A chemistry of mammalian pheromones, J Steroid Biochem Mol Biol. 1991; 39(4B):627-32.
Nicoli RM & Nicoli JM, Biochimie de l'Eros, Contracept Fertil Sex. 1995;23(2):137-44.
Sobel N, Prabhakaran V, Hartley CA, Desmond JE, Glover GH, Sullivan EV, & Gabrieli JD, Blind smell: brain activation induced by an undetected air-borne chemical, Brain. 1999;122( Pt 2):209-17.
Porter RH & Winberg J, Unique salience of maternal breast odors for newborn infants, Neurosci Biobehav Rev. 1999;23(3):439-49.
Winberg J & Porter RH, Olfaction and human neonatal behavior: clinical implications, Acta Paediatr 1998;87(1):6-10.
Kohl JV & Franceour RT, The Scent of Eros (Continuum Publishing) 1995. This is a very excellent book for the general public on pheromones and behavior.